Brow and Lash
HD Brows Master Stylist – £30*
Brow Lamination – £45*
Brow Lamination Maintenance – £30*
Brow Lightening – £40*
LVL Lash Lift – £45*
Eyelash Tint – £18*
Eyebrow Tint – £12*
Note – patch test required 48 hours prior
Spray Tanning
Sienna X – £25
Sienna X Express 1 Hour + – £28
Waxing
Eyebrows – £16
Nostril – £10
Lip – £8
Chin – £8
Threading
Lip – £8
Chin – £8
Lash Extensions
Hybrid Lashes – £50*
Hybrid Infills – £25*
Classic Lashes – £40*
Classic Infills – £20*
Note – patch test required 48 hours prior
Ladies
Wash and Cut – £30
Wash, Cut and Blow Dry – £40
Re-style – £50
Blow Drys – from £20
Hair Up – from £40
Bridal Hair on Consultation
Colour
Toner – £20
Regrowth – £40
Full Head Tint – £50
T Section Highlights – £50
Half Head Highlights – £70
Full Head Highlights – from £90
Balayage – from £95
Colour Change/Colour Correction on quote
Note – Patch test required 48 hours prior
K-Respect Keratin Blowdry 
Milk_shake®️ k-respect keratin system is the innovative smoothing, anti-frizz system for all hair types.
It eliminates frizz, halving drying times and making hair healthier and shinier, with a result that lasts from 3 to 5 months.
*All keratin blowdries come with a full size shampoo and conditioner to maintain the treatment at home.
from £75 – £165 price on consultation 
Olaplex 
Added into colour service – £15
Standalone Treatment and Blowdry – £40
Standalone Treatment and Cut and Blowdry – £55
Gents
Clipper Cut – £10
Cut and Style – £20
Children
0-5 Years – £8
6-11 Years – £15
12-15 Years (includes wash and styled) – £25
We kindly ask that if you wish to cancel your appointment that you give us at least 48 hours notice. As the salon is always busy, we want to ensure our time is used effectively. Therefore, if you do cancel less than 48 hours before your appointment, there will now be a charge for up to 50% of your treatment, which will be collected when you next book in. Thank you for understanding.
* Belles policy states that clients under the age of 16, or those who are pregnant or breastfeeding cannot be treated on. 
Spoil someone special with a Belles gift voucher. Perfect for any occasion, our gift vouchers are the ultimate treat for a loved one.
Gift vouchers are available to purchase at our salon in Thatcham.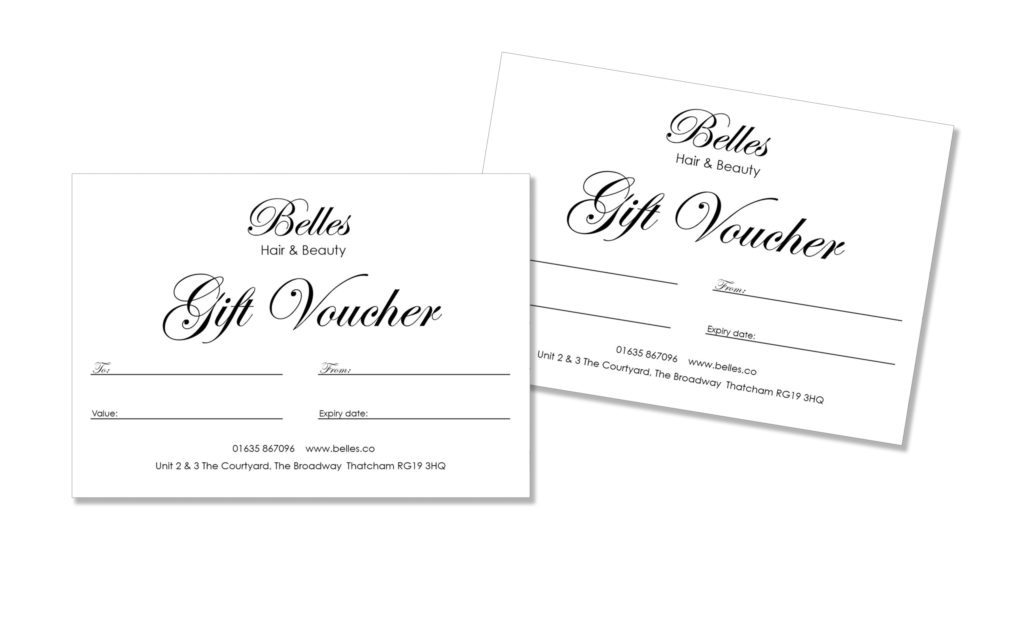 © Copyright 2021 Belles. All rights reserved
Website designed by Jennifer Cornish Design